ADA Compliance Consultation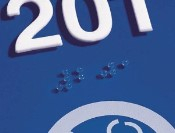 We've worked with Americans with Disabilities Act (ADA) signage for years and have the experience and creativity to keep your building both legally compliant and stylish. We also can create fire & rescue signage for stairwells/exits as well as all manner of wayfinding signage.
Talk to us about your situation, and let us help you navigate the laws and requirements. We can prepare a detailed signage plan which shows the location and verbiage of each sign based on the laws governing your building. From there we can explore material selection and find a solution that fits within your budget.
Building managers and property managers love how we make their jobs easier by creating a template, providing easy to understand proofs of the designs, preparing a site map which shows the intended locations for all signage, and consulting with fire chiefs and building inspectors to make sure everything is properly marked for ADA purposes as well as fire/rescue and wayfinding. We also keep all customers' custom files archived so we can reproduce the signs to match the others anytime, as-needed. If you remodel or reconfigure a space, Signs4Success can modify your signage plan in any variety of ways to suit your needs.