A full-service sign & vehicle graphics shop focused on your success
The commercial signage options for your business are far more vast and diverse than most people realize.
You may have an idea of what signage you would like, but you may not know exactly how to execute your idea. More importantly, you may not have time to spend on becoming an expert in sign design and construction. Signs4Success takes a unique approach by getting to know you and the needs of your business, so we can help you navigate the myriad sign options to find the perfect fit for your business and your budget.  
Let's talk about your next project. Let Signs4Success take care of your signage, so you can focus on your customers. 
(952) 941-SIGN
ADA Signage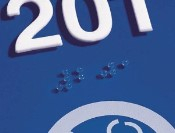 ADA signage is required for any commercial space accessible to the public, and Signs4Success can make sure you have all of the appropriate signage your facility needs to meet code (and avoid fines). We work with architects, fire chiefs, city planners, and other authorities to make sure your braille and wayfaring signage is accurate, appropriate, and easy to understand.  Your site will be surveyed, mapped out, and given a signage floor plan that shows the location of each sign to be installed.  Signs4Success will also keep your sign designs, should you need additional signage in the future.
Signs4Success Marketing News